THE FIRST DAY OF THE RAIN FOREST SCHOOL
THE FIRST DAY OF THE RAIN FOREST SCHOOL – MARCH 20, 2021
AT RUKU SAMAY ECOLODGE, ECUADOR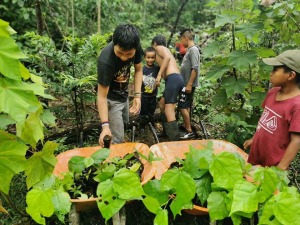 Our first day of the Ancestral school started very surprisingly with far more children coming than originally registered – there were a total of 32 kids!
Well, as usual, the good news is spreading fast and in the jungle even without the internet. Some children came to class at 7:30, half hour early. Of course, our hearts rejoiced at this.
We started the day with movement and warm-up, games and a demonstration of what can be performed with a hula hoop. It was a great success with both girls and boys of all ages. We jumped around playing while waiting for others. Gradually, everyone joined the games, and when they were all together, we moved to the fireplace. The girls first swept and prepared the fireplace, while the boys carried wood and all things needed to start a fire. They lit it up. Well, let´s face it, we didn´t have to teach the indigenous children how to start a fire, they did it perfectly!
The older girls were interested in the cauldron we put above the fire. And more importantly – what we were going to cook in it … Wayusa, of course! The boys brought heavy water and the girls poured Wayusa and put her on fire. We sat down around the fire and another game began – introduction. We were all supposed to introduce ourselves and also, which was a bit complicated for me as well, and I had to pay attention all the time, to repeat the names of the children and teachers that were before us.
And aaaawh, remembering so many names was a challenge, but we laughed a lot with that. While cooking Wayusa, the grandmother was telling us the story of Wayusa in her native language Kichwa, and Agustin translated it into Spanish.
Then we walked around the medical garden and learned about the plants. We also got to use them straight away, because one boy had a rash on his leg for a long time.
After all the morning activities, we got to get a break for a snack and a bath in the beautiful river that flows through the Ruku Samay. Rested and full of strength, we threw ourselves into Spanish-English-Kichwa class. It was fun and even some Czech words came up. The little ones learned to write their own name and the older kids practiced sentences. In English, not in Czech.
We ended the first introductory day of the Forest School by thanking everybody and announcing that the Camp – planting of the medical – botanical garden is going to take place next time we meet. The children were super excited about the news, which was a great boost for us organizers, too.
Author: Karolína Pištěková
Edit: Mariana V.