HELP US CREATE PROTECTED LANDSCAPE IN THE ECUADOR RAIN FOREST

Thank you
to everyone who supports us!
It would not be possible without you.
Protected landscape area, protection of trees and planting new as well as Forest Schools are all activities of Zivot postaru funded 100% from donations of people who believe in same values. It would not be possible without you. Ashka Pagrachu (Thanks in Kichwa)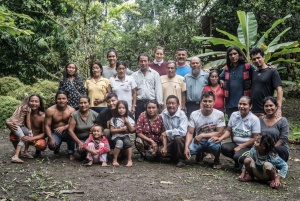 The Forest school and kindergarten
" The Elders' Gathering"
(February 2020)
The school and kindergarten in the middle of the forest – a unique idea invented by unique
people. People who are not interested in a personal gain, but in showing and establishing a
new path… pathway in harmony with nature…
Complete photo album of BTS and preparations on our Facebook here.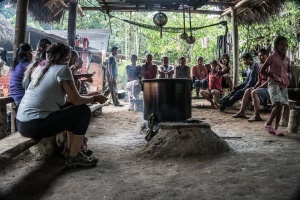 The ELDER's GATHERING
February 14 to 17, 2020, Zivot Postaru Foundation held a first Meeting of Grandparents of different native tribes from the all over Ecuador – Amazonia, Sierra, Kichwas, Waoranis, Quitus, Caras. The gathering was supported by volunteers and foreigners mainly from the Czech Republic, but also Germany, Australia, Canada, Colombia and Mexico.This congregation had a main objective of retaking Ancestral teaching for the educational support of the community and indigenous families.Our main goals is to build a sustainable alternative education center for children ….
Abuelo Ceibo
– 1st Tree Adoption of Rainforest Adoption 
In May 2020 our endeavors to "adopt" this beautiful Ceibo were successfull. The negotiations started in February, When we filmed this video. Thanks to Agustin's multiple visits to Ricardo Alvarado Tapuy's home, we bought the wise tree he was trying to sell due to lack of money for his kid's schools supplies, travel and uniforms.
Why helping Amazon Forest?
Amazon rainforests are one of the biggest treasures on our Planet. They are the lungs of Earth and a home to more than ¼ of all vegetal and animal species. The amazon jungle is also among few last places on Earth where people live in close connection with nature.
Zivot Postaru is a non-profit organization that strives to protect and conserve the Amazon jungle and helps its inhabitants to maintain their homes, culture and the way of living which is in accordance with and respect for the nature. Part of Amazon rainforest around the river Napo basin is being devastated by the mining and logging activities of large corporations, and also by longing for inconveniences of modern civilization that is conquering indigenous people more and more.
Zivot postaru makes efforts to help locals to find balance and sustainability in this uneasy situation. More about the project..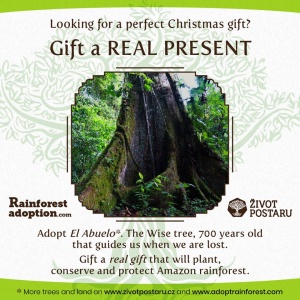 GIVE A REAL GIFT, BE THE RAINFOREST GUARDIAN
Are you looking for an original gift for Christmas or Birthday?
Adopt a medicinal tree in the Amazon jungle in Ecuador and help our fundraiser for purchase of 16Ha of the rainforest so that we can protect these trees and plant new ones. For your donation you will receive an Amazon Rainforest Guardian certificate that you can gift to you beloved underneath the Christmas tree.
You donate, we protect them!
Friends of the amazon jungle

Jaroslav Dušek
Film and theatre actor
Among others, our project is supported by Jaroslav Dusek, for which we are immensely grateful. Take a look at the interview with Dusek and Agustin Grefa, Ecuadorian shaman about the foundation of the protected landscapes in the Ecuadorian rainforest.