HELP US CREATE PROTECTED LANDSCAPE IN THE ECUADOR RAIN FOREST

Ancestral Schooling // Forest Schools and kindergarten founding
In the past few years, indigenous people in Ecuador have to face new challenges with schooling system. Due to limited financial resources, kichwa families are moving to the cities, so that the kids can attend schools (obligatory by law with penalty of 3 years of jail if failed) and family can stay together. Amazonia is thus losing its original protectors, people who will ensure it is conserved for future generations.
We would like to now thank all the contributors for their generous donations, it means a lot to us.
–       First Step is ELDER's GATHERING 2020 – main building stone where we connect our visions and ideas of the indigenous in order to found a project that is sustainable and viable. More about the Gathering here..
Please support us via GOFUNDME :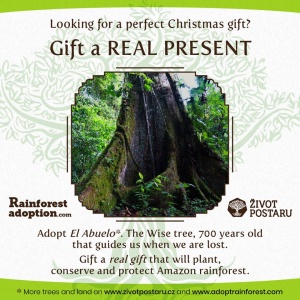 GIVE A REAL GIFT, BE THE RAINFOREST GUARDIAN
Are you looking for an original gift for Christmas or Birthday?
Adopt a medicinal tree in the Amazon jungle in Ecuador and help our fundraiser for purchase of 16Ha of the rainforest so that we can protect these trees and plant new ones. For your donation you will receive an Amazon Rainforest Guardian certificate that you can gift to you beloved underneath the Christmas tree.
You donate, we protect them!
Why helping Amazon Forest?
Amazon rainforests are one of the biggest treasures on our Planet. They are the lungs of Earth and a home to more than ¼ of all vegetal and animal species. The amazon jungle is also among few last places on Earth where people live in close connection with nature.
Zivot Postaru is a non-profit organization that strives to protect and conserve the Amazon jungle and helps its inhabitants to maintain their homes, culture and the way of living which is in accordance with and respect for the nature. Part of Amazon rainforest around the river Napo basin is being devastated by the mining and logging activities of large corporations, and also by longing for inconveniences of modern civilization that is conquering indigenous people more and more.
Zivot postaru makes efforts to help locals to find balance and sustainability in this uneasy situation. More about the project..
Friends of the amazon jungle

Jaroslav Dušek
Film and theatre actor
Among others, our project is supported by Jaroslav Dusek, for which we are immensely grateful. Take a look at the interview with Dusek and Agustin Grefa, Ecuadorian shaman about the foundation of the protected landscapes in the Ecuadorian rainforest.